The programme PlayOnLinux accomplished, what I failed to do on my Ubuntu. Get Age of Empires III running with Wine. PlayOnLinux is using Scripts, describing how to install a game (or something else).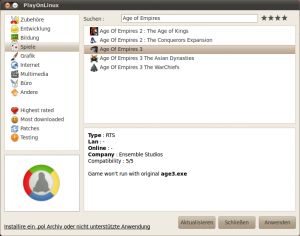 The installation of Age of Empires III was as following: An appropriate Wine version was dowloaded, installed and a fitting wineprefix created. Then all 3 CDs were copied to my computer and installed afterwards. Then (after asking) the latest patch was downloaded and installed automatically.
On a gaming PC this could be one of the most important programmes (next to Wine). But who want a clean system and to know exactly what is going on on his computer I would not reccomend it. Not only that the programme in the ppa is not signed, but it downloads different versions of Wine automatically. Where exactly they are installed is something I don't know. A look at the source code could fix this, of course.
Packages for many Linux distributions are available here.